AC Industrials launches Maxus as 6th automotive brand
AC Industrials, an Ayala company, launched Maxus Philippines on June 5, 2019 at the Blue Leaf Filipinas in Paranaque City. Maxus Philippines also introduced its flagship model the G10 family multipurpose vehicle (MPV), and the V80 Comfort, Flex and Transport vans... Maxus Philippines thus becomes the sixth automotive brand partner under AC Industrials' wing, which includes other world-renowned car brands Honda, Isuzu, Volkswagen, Kia and KTM motorcycles.
The Maxus auto brand traces its British roots to as far back as the creation of the Leyland Steam Van in 1896, followed by the start of Leyland Motors in 1907. This company eventually expanded its products to include sedans, buses and other commercial vehicles throughout its long history. The Maxus nameplate first appeared with the launch of the "Maxus" prototype LD100 van at the end of 2004. The distinctive Maxus V80 and Maxus G10 first rolled out in 2011 and 2014, respectively, with the Maxus G10 establishing the Maxus brand image.
Through this 123-year history, Maxus has become one of Europe's most influential and recognized commercial vehicle brands, and a leader in the design, production and distribution of international commercial vehicles. 
Leyland DAF Vans (LDV), a successor company to Leyland Motors, launched the Maxus brand in 2004, and in 2010, Shanghai Automotive Industry Corporation (SAIC) acquired the assets of the LDV Group and continued the Maxus brand which has current distributorships in Latin America, Australia, New Zealand, Europe and Africa, among others. In the United Kingdom, Australia, and New Zealand, Maxus vehicles continue to be sold under the LDV brand. 
 
Maxus has been investing in new technologies, prototyping a pure electric wide-body light bus in 2014, an all-electric MPV in 2016, and a hydrogen fuel cell vehicle and internet-connected SUV in 2017. 
It is this European heritage, coupled with the powerful global support of SAIC that provides AC Industrials with the confidence to introduce the Maxus automobile brand in the Philippines. AC Industrials and Maxus Philippines CEO Arthur Tan said, "The Maxus brand continues AC Industrials' strategy of providing automobiles and motorcycles that not only speak of the rich heritage of their countries of origin, but are also the best examples of a global collaboration in vehicle engineering, design, assembly, and distribution." 
During the Maxus launch program, which was themed "Max It Out!," Maxus Philippines introduced the initial models to be offered locally: 
Maxus G10 
 
The Maxus G10 offers "Max Design" in a 9-seater MPV configuration that offers spacious interior amenities, highlighted by adjustable seating for all seats, which includes four captain's seats in the second and third rows and 60:40 split rear bench seat with tumble, flexible and spacious luggage room, 7-inch touchscreen radio with USB and Bluetooth and 6-speaker system, a 220volt power supply, and front and rear air-conditioning system. 
 
For "Max Safety," the Maxus G10 features the double-layer welding technology that meets European MPV active and passive safety standards, driver, front passenger and side airbags, 3point seatbelts for all seats, ISOFIX Child Seats, and front and rear parking sensors. For "Max Stability" and handling, the G10 is fitted with a McPherson suspension at the front and the 5-link coil springs at the rear, and chassis timing by Lotus and GM Pan-Asia, resulting to increased stability and better handling. 
 
The Maxus G10 offers "Max Adventures" for all members of the family. Powered by a Euro4 1.9liter diesel engine equipped with VGT charger mated to a 6-speed automatic transmission that produces a maximum 150 Ps of power at 4,000rpm and a maximum torque of 350 Nm at 1,800 to 2,600rpm, the Maxus G10 can go on road trips "to the Max!" with the high-power yet fuelefficient output. 
 
With all its "Max-ed Out" features, the G10 is offered at a "Max Savings" special introductory price of just P1,680,000.00. 
 
Maxus V80 Comfort, Flex and Transport 
 
Maxus Philippines has positioned the V80 Comfort as its "Max-Mataas, Max-Maluwag, and MaxProtektado (taller, roomier, safer) van. Its 13-seat capacity makes it ideal as a family van, as a school bus or passenger shuttle service. Being the widest in its class, the V80 Comfort offers "Max Capacity" as it can be loaded to up to 1.1 tons, and is sufficiently powered by a 2.5-liter CRDI diesel engine with VGT. The V80 Comfort's dual front airbags, ABS, EBD, ISOFIX, and rear proximity sensors offer "Max Protection." The V80 Comfort is offered at a "Max-Sulit" price of P1,570,000.00. 
 
The 3-seater V80 Flex is the van that's "Max-Malakas, Max-Malaki, Max-Maaasahan" (more powerful, bigger, more dependable). With the same body dimensions, engine, safety features, and load capacity as the V80 Comfort, the V80 Flex is the ideal van for Filipino small-and-medium entrepreneurs (SMEs) who require "Max Flexibility" for the powerful and efficient transport of their cargo. The V80 Flex offers spacious, flexible interiors. The Maxus V80 Flex is made "MaxSulit" with its price of only P1,190,000.00. 
AC Industrial Technology Holdings, Inc. 32F Tower One Ayala Triangle Ayala Avenue, Makati City 1226 Philippines    
   
Lastly, the V80 Transport variant offers an 18-seat passenger capacity which is ideal for the shuttle service business. It is equipped with the same engine and safety features of the other V80 variants. The Transport version comes with a "Max-Sulit" price of P1,288,000. Maxus Philippines President Felipe Estrella, in describing the company and its vehicle offers, said: "All of our automotive brands offer unique value propositions to particular segments of the motoring market, and we envision Maxus to be very competitive in the commercial vehicle category, particularly in the passenger van and MPV segments. Not only does its strength lie in transporting families, Maxus also adds a distinct proposition to cargo transport and shuttle services, offering our multitude of Pinoy small and medium-sized entrepreneurs the opportunity to get their shuttle and cargo businesses going in style, comfort and power." 
 
Aftersales 
 
The aftersales services of Maxus Philippines are set to "Max It Out!" for its customers with a periodic maintenance service (PMS) interval schedule of the first 5,000 kms and every succeeding 10,000 kms, or once a year, whichever comes first. This is more convenient and more costefficient compared to the industry-standard 5,000-km PMS interval. The general warranty is 3 years or 100,000 kms, whichever comes first. 
 
Maxus Philippines also offers a 24/7 emergency roadside assistance, a pick-up and delivery service for customers, and on-site servicing for corporate fleet accounts. 
 
Dealer Network 
 
And for that "Max Customer Convenience," Maxus Philippines will soon establish a dealership network that will be accessible to customers right in the heart of Metro Manila, particularly at the Greenfield District Showroom and Service Center in Mandaluyong City—the first showroom and aftersales facilities. Subsequently, Maxus Philippines will bring the brand closer to customers with dealerships at ASEANA Manila Bay in Paranaque City, Quezon Avenue in Quezon City and Cebu in the Visayas region. Maxus Philippines will also be appointing other dealers across the country following the establishment of its initial network. 
 
Source: Maxus Philippines. https://www.maxus.com.ph/news-and-events/ac-industrialslaunches-maxus-as-6th-automotive-brand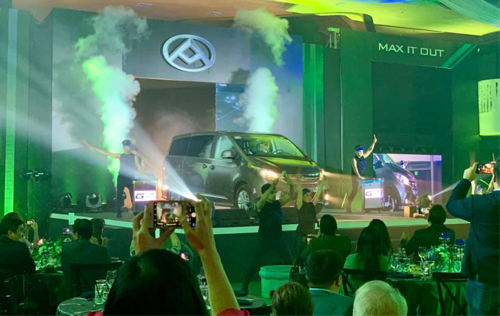 node/121